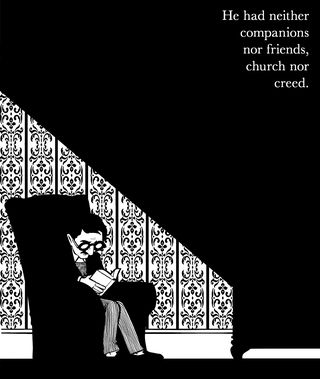 De Selby Press is publishing a stunning new illustrated edition of James Joyce's classic Dubliners. A crowdfunding campaign with ULULE is currently underway to help pay for the printing of this inaugural edition. 
From book buying to founding an indie press - an interview with de Selby's Linda Fallon
Linda Fallon:
I always knew I wanted to work with books. I started out in The Cork Bookshop which was a small indie in Cork city, now closed down sadly. Then I moved to Waterstone's, also in Cork where I was the fiction buyer for two years, after which I went travelling for a while in Asia, before returning to Waterstone's in Richmond, in south-west London, again as the fiction buyer. It was while I was there that I saw the vacancy advertised on the
Shakespeare and Company
website. Within a month of applying my life changed completely and I was suddenly moving to Paris. 
Simply the desire to make something! To be able to hold something in my hands and say, I made this. (Even if I didn't literally make it.)
Why start with Dubliners? (one of my favorite books, btw)
This year is the centenary year of its publication, we wanted to start with something celebratory.
What is special about de Selby's edition? Is it the illustrations?
The illustrations are incredibly striking. Stephen Crowe, our illustrator, is no stranger to Joyce, one of his other projects, 
Wake in Progress
, is his brave attempt to illustrate every single page of 
Finnegans Wake.
 We also have a brand new introduction by one of my favourite writers Paul Murray, author of 
An Evening of Long Goodbyes
 and 
Skippy Dies
.
What challenges have you faced in starting a press?
Finding a reasonably priced printer who is not a million miles away and can deliver within a reasonable time. That took some research.
Kickstarter is the name on everyone's lips but you can't use it if you are resident in France so we decided to find the French platform that was the most similar to Kickstarter as it is the model that seems to be the most effective. 
We're aiming to raise €10,000 which will cover most of the cost of producing the book.
Are there any special gifts or prizes we should know about?
Oooh, we have lots of
goodies:
we have copies of the book which are available to preorder, but also we have a series of related bonuses. For example, the wonderful Lisa Hannigan recorded a heartbreaking version of the ballad 'The Lass of Aughrim' which triggers an important moment in 'The Dead', the last and longest story in the collection. It's available to download as a reward, but you can also listen to it on the campaign website. There's also an ebook, as well as a specially designed poster for the book launch and of course prints of Stephen's incredible illustrations.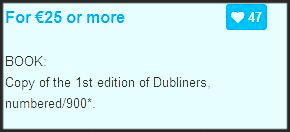 If we make our target, we are hoping to launch the book in September.
How - and where - will it be distributed?
This depends on a few things, primarily on how much money we make and how much initial demand there is for the book. 
What next?
Good question. It took us three years to get this far with this book, so a holiday is the first thing on our minds and then we'll think about our next move.
***
About de Selby Press: De Selby Press is a Paris-based indie publisher founded in 2014 by veteran booksellers, Linda Fallon and Terry Craven, of Shakespeare and Company bookshop, Paris.