In his Sciences Po Master Class, Stephen Doig, the Director of  "computer-assisted reporting" at ASU's Walter Cronkite School of Journalism, introduced journalism students to the use of Excel in analysing data. 
While (sadly) not an investigative journalist myself, I have in a past life taught Excel skills to businesspeople, housewives, university students, refugees and even retired people, so I know that spreadsheets can seem a little daunting. Fortunately, free tutorials both from Microsoft and kind-hearted super-users abound on the internet for all kinds of functions, so learning Excel has gotten much easier.
For journalism students, however, the problem is to identify which functions to use. (As professor Doig pointed out, journalists don't want or need all the business functions.) And for French students, the challenge is: how to access French data.
To help answer these questions I'll post (what I hope are) useful links for journalism students over the next few days.
Today: How to download data from France's national statistics site: INSEE.
First, go to Insee's site (Insee.fr)
You will see a screen like this:
 Select BASES DE DONNEES from the menu in red at the top of the screen.
You now see this: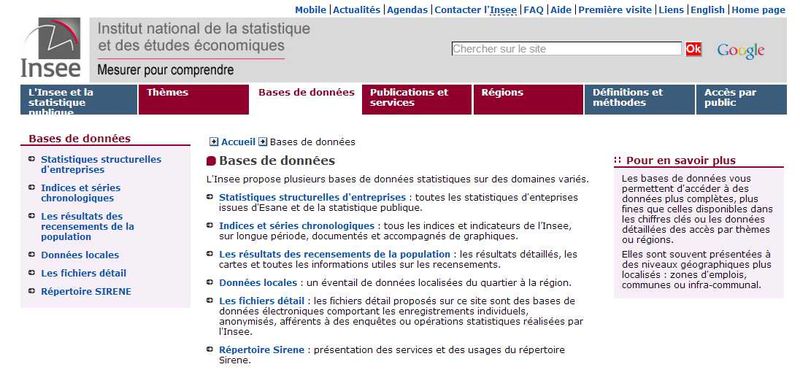 Fool around with it a bit. Explore. Familiarize yourself with the kind of data available here. And when you are ready, select one - for example, "Chômage"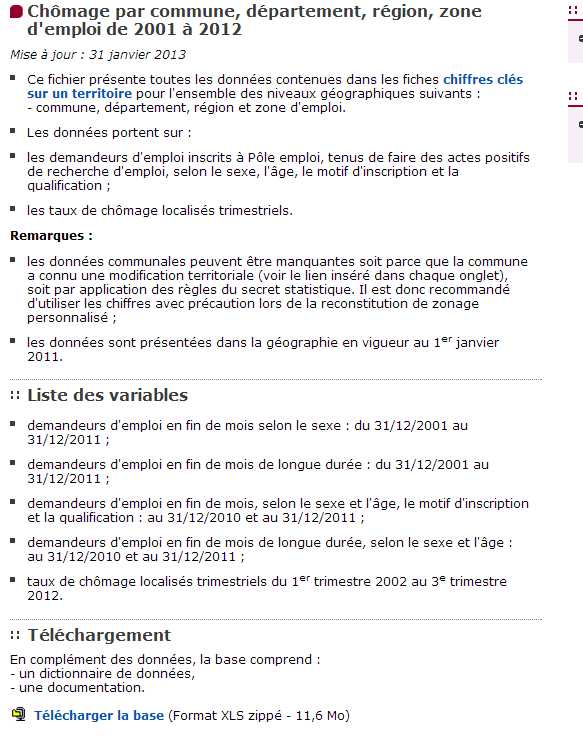 At the bottom of the page you see (in blue) TELECHARGER LA BASE; go ahead and click! You now have a zipped excel file on your computer ready for use...
INSEE has data of all kinds, at various levels of detail, sorted according to different criteria. Births, deaths, population, education, economics, and on and on. If you need a fact about France, you might be able to find it - and download it in a spreadsheet - here. 
 INSEE also give a list of other sites with data that might be interesting here.
 NEXT: where to find good tutorials to learn how to use Excel...