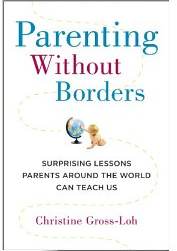 More recess, less hours in the classroom, no high stakes national testing, obligatory schooling only from age seven, few private schools - the Finnish education system is the mirror opposite of France.
Yet year after year it tops the charts in school results.
Why?
CHRISTINE GROSS-LOH, author of Parenting Without Borders, talks with Finland's minister of education, Krista Kiuru, in an attempt to find out.
Interview published in The Atlantic Monthly
Spoiler alert: the title of the article "Finnish Education Chief: We Created a School Based on Equality" might give the answer away!
Topics explored in this interview:
* the idea that children are a precious ressource that should not be wasted
* a focus on developing the potential of EVERY child
* recognition that academics form only part of an education - that hands-on activities, handcrafts, cooking, creative pursuits, and sports, are all important. 
* the idea that school is also about meaning
* that variety is important in learning, that the school day should be broken up
* that teachers need automony and respect
* and that the best way you can get teachers you can trust with autonomy is to recruit highly educated, highly motivated teachers and to continue to train them and improve their skills all throughout their career...
Read full interview of  Krista Kiuru, Finland's minister of education and science