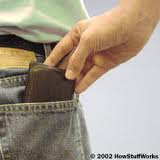 The unwritten rule among Paris bloggers is not to "burst the bubble". For many visitors - especially Americans - Paris represents a gorgeous dream, and a visit here is often a culmination of considerable effort and expense, in search of a glimpse of a better, more beautiful, higher way of living.  It is, among those who write regularly about France, considered cruel and unnecessary to undermine these innocent desires.
However, a dear friend of mine was recently pickpocketed for the second time on a bus, joining the thousands of tourists who get robbed every year in the capital, often by criminal gangs that work openly using the same techniques again and again, risking - giving the vagaries of the French justice system - basically nothing.
In fact, if you have a free moment, you can take a ride on the 1 line and watch the youngest pickpockets at work. Or, if the sun is shining, enjoy the sight of teenaged gangs relieving happy, jet-lagged tourists of their wallets with the famous fake petition trick around the Comédie Française.
These attacks on defenseless tourists are so common that they rarely even make the news - unless, as yesterday, it is a member of former president Clinton's inner circle who is attacked. (On the Champs Elysées, withdrawing money from an ATM, with the old "distract the target with a fake petition" ploy)
"C'est un vol à la tire, comme malheureusement il y en a beaucoup à cet endroit", selon une source policière, quotes le Figaro in today's "Un conseiller de Clinton dépouillé à Paris.
Earlier this week it was a Chinese film mogul who complained about the lack of security in France. After his room was robbed at a Pierre et Vacances in Cannes, he said the manager offered no help whatsoever, abandoning him to figure out how to deal with the police and papers on his own. A treatment which so outraged film industry people that Hollywood Reporter picked up the story (see China Film Group vice president Zhang Qiang had all of his luggage stolen from his rented Cote d'Azur apartment, leading the senior exec to tweet: "This film festival is not worth mentioning!")
Usually, however, victims are just tourists not worth a mention and the crimes shrugged off as "normal".
Last month, in an exceptional event, workers at the Louvre shut down the entire museum, so sick they were of watching tourists get robbed and fearful for their own security (see Le "ras-le-bol" des agents du Louvre face aux vols des mineurs roumains in Le Monde)
Only a massive police presence on the streets of Paris prevents the problem from being even worse. But the "forces of order" can only do so much. Underage pickpockets are systematically released and even the most hardened repeat adult offenders rarely incarcerated for long. After long investigation, the police managed to break up an organized crime group that forced gypsy children into pickpocket slavery - and despite the severity of the crime (child slavery?) the judge accorded only the lightest sentence to the adult kingpin.(see Le gang Hamidovic jugé pour traite d'êtres humains in Nouvel Observateur)
Paris bloggers who try to warn their readers about these criminals by describing them and their tactics specifically run the risk of being criticized for being downers - or even worse and highly unfairly - racists.
But is putting our heads in the sand really the best we can offer the tourists who flock here to enjoy the City of Lights?