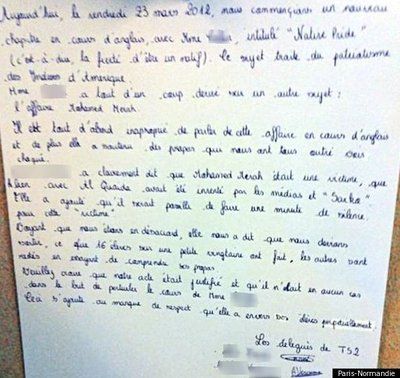 Letter sent by Rouen class delegates to the Principal on March 23, 2012 


France: A 56 year old English teacher in the Gustave Flaubert lycée of Rouen requested that her students observe a minute of silence in honor of the memory of Mohamed Merah, who was killed the previous day in a shootout with police who were trying to arrest him for the murder of seven people, including three small chijdren. Luc Chatel, French Minister of Education, has demanded her immediate suspension.
Mohamed Merah, who claimed ties to Al Qaida. was wanted for the point blank murder of three little children and a father at a Jewish school and the murder of three French soldiers earlier in the week.
In an armed standoff with police he wounded two police officers and two French Swat team members (RAID).
The teacher, whose subject was English, told the students that Merah was a "victim" and requested a minute of silence.
According to Paris Normandie, the students refused her request and a dozen of them wrote a letter to the Principal, who informed the Rectorat.
The teacher was summoned to the Rectorat.
Luc Chatel, Minister of Education, has requested the immediate suspension of the teacher in question.
A suivre.... 
 ***
 Update from Libération
The SGEN-CFDT Teachers Union is supporting the English teacher. Pascal Bossuyt, secretary of the SGEN-CFTD of Haute Normandie said: "She used an unfortunate formulation in a particular context and immediately regretted what she said." The SGEN-CFDT points to the psychological "fragility of our colleague". 
"In these circumstances," the union representative said, "we think she should benefit from the protection and accompaniment of her administration." 
The Rector of the Academy says that "she appeared to me disturbed and fragile" and specified that the English teacher will continue to be paid.
Update from Le Figaro (25 March 2012)
Teachers from the English teacher's school denounce the mediatisation of the affair and say that while "maladresses" were committed, "no minute of silence was organized in the class". They offer, however, no explanation for the dozen students leaving the class and the letter written by the class delegates describing the teacher's words (see above).